Mr. Verrier, author of Class Struggle: Journal of a Teacher In Up to His Ears is visiting The Life and Lies for the kickoff of his book tour!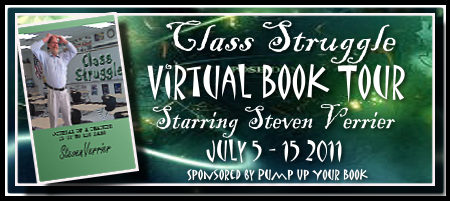 About the book:
Class Struggle takes you deep into the heart of San Antonio's "Webster High School," an institution that seems to revel in dysfunction. Told from the point of view of a bemused teacher, Class Struggle is a guided tour through the landscapes and minefields of modern urban education. Come along and meet intriguing characters - the brilliant student "on a quest to kill," the barking boy, the substitute teacher who won't shut up, and many others - who'll make you laugh, cry, and scream! This is a book you won't want to put down ... whether you're a student, a parent, a teacher - or just someone who loves roller coaster rides.
---
IF YOU'RE THINKING ABOUT BECOMING A TEACHER …
Many teachers arrive at school every morning eager to teach killer lessons. Of course, this isn't always easy to do given emphasis on standardized tests and meeting a limited number of state-mandated objectives. A lot of teachers choose to keep things simple rather than endure complaints from students, parents, and school administrators for straying too far from those mandated objectives and the "Scope and Sequence" a school district typically expects every teacher to follow.
As much as teachers want to help set their students up for success in life, job pressures often dictate they do just the opposite. Teachers are "advised" not to fail many students, and this often results in giving students credit for work they haven't done or otherwise adjusting grades in students' favor. Students I've failed have been given "credit recovery" tests unrelated to the courses they didn't pass – and this after I'd given them multiple opportunities to retake tests, redo assignments, or do work they'd chosen not to do in the first place. Many people would call that setting students up for failure.
Attendance records are sometimes adjusted behind teachers' backs – this happened to me – in order to ensure students aren't denied credit or sent to court because of excessive unexcused absences.
One obvious result is that students are denied an opportunity to learn about accountability. They begin to feel bullet-proof in a sense; they learn once more that, regardless of their actions, they'll be spared the consequences – at least, until they graduate and leave school.
If a teacher tries to apply real world standards by making students accountable now – by failing them when they deserve to fail, by making them rewrite plagiarized essays or reporting them for cheating on tests, even by gently scolding them when it seems appropriate – that teacher will probably endure a very long year and a lot of scolding himself.
Teachers are under such scrutiny now that many definitely would leave the profession if they saw other prospects. Stress-related illnesses among teachers seem to be on the rise, and a lot of teachers seem fearful of taking one step in the wrong direction.
Class Struggle: Journal of a Teacher In Up to His Ears is an account of my experiences and observations as a teacher at a challenging San Antonio, Texas, high school during the 2009-2010 school year – and a firsthand chronicle of a teacher's burden in this day and age. If you're thinking about becoming a teacher, check this book out and see whether you suddenly get the urge to pursue another profession.
---
About the Author: Steven Verrier, born in the United States and raised in Canada, has spent much of his adult life living and traveling abroad. He is the author of Raising a Child to be Bilingual and Bicultural, a prizewinning book published bilingually in Japan, and several short plays for the student market. His novels, Tough Love, Tender Heart and Plan B, were published in 2008 and 2010, and his recently-published nonfiction book, Class Struggle: Journal of a Teacher In Up to His Ears, is sure to raise eyebrows over the coming months. Currently Steven Verrier lives with his wife, Motoko, and their five children in San Antonio, Texas, and New Brunswick, Canada. You can visit his website at www.stevenverrier.com.
Thanks Steven! You can check out an excerpt at Pump Up Your Book by clicking here.
Tuesday July 5th
Guest Post at The Life and Lies of an Inanimate Flying Object
Wednesday July 6th
Guest Post at Reading, Reading and Life
Thursday July 7th
Guest Post at Rainy Day Reviews
Friday July 8th
Review at Rainy Day Reviews
Interview at Pump Up Your Book
Monday July 11th
Interview at Book Marketing Buzz
Review at 4 the Love of Books
Tuesday July 12th
Interview at BlogCritics
Wednesday July 13th
Review at One Day at a Time
Thursday July 14th
Interview at The Examiner
Friday July 15th
Guest Post at Coffee and a Keyboard
Review at The Book Connection