So I found this awesome album via Noisetrade. If you don't know what that is, you should go look it up. Especially if you're interested in blogging about music. I've been listening to this album for like, the past 2 weeks straight. I've added some of the songs to my
antidepressant
playlist on Youtube. Meet Jenny and Tyler in their new album, Faint Not!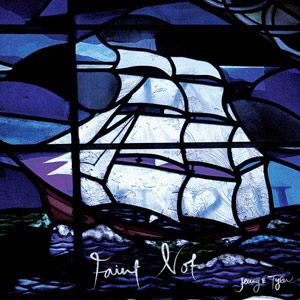 Jenny and Tyler
are a married couple who sing songs together. How sweet is that??! Today they're visiting The Life and Lies for an interview.
1. What inspired you to write your song Carry Me?
I wrote Carry Me one morning while I was having coffee at my favorite coffee shop here in Nashville. I was journaling and meditating and was really hit with the reality of grace in that moment. I had an overwhelming sense of gratitude for the Lord and his mercy. I realized that I've messed up a lot in my life and that the Lord has forgiven. What's more, it's incredibly likely that I am going to continue to mess up, and it is certain that the Lord will continue to forgive. I knew this, but it was as if I was realizing it for the first time. In my weakness, he is strong. -Jenny
2. Which of your songs do you think is your best, or your favorite?
It's hard to choose favorites. I think that my best song is one from our new record (to be released April 3rd) called Skyline Hill. It's about beauty in creation, relationships, and grace. Tyler's favorite is one from our very first record entitled Called Beauty. Called Beauty comes from Ezekiel 16 and is about an adulterous woman. She seeks other lovers for satisfaction but her husband continues to love and pursue her. It's a picture of God's love for Israel and for us. We often seek things apart from Him, yet he offers us grace.
3. Where do you get inspiration for your music?
Inspiration comes from many places: our relationship with God, our relationship with each other, friends, social issues, books, experiences.
4. How do you two work together to write the lyrics and the music? how does the creation process work?
We tend to write separately and then bring songs to each other to finish together. It's a really fun process. We've learned how to work together well without hurting each other's feelings. It can be difficult to work so closely with your spouse!
5. I read on your homepage you moved, quit your jobs, and started making music full time. How has your relationship with Christ and with each other changed since you've taken that leap of faith? How would you encourage young Christians to trust Christ and take potentially dangerous steps like that?
I think all of the changes and steps that we've made to make music full time have been incredibly strengthening for our relationship. It's been hard at times, but we've learned to really rely on one another and the Lord. We've really become our own family and I think that's important for young couples to do. Honestly, for us it just felt really right to attempt music full time. We spent time in prayer and seeking the Lord and counsel from others and it just made sense. We felt like we had nothing to lose - if it didn't work out, we'd try something else. I don't think that quitting your job is the right thing for everyone to do. We're all called to different things in different ways. But if you feel that the Lord is asking something of you, even if it seems hard or impossible, don't be afraid to be obedient and go for it.
Thank you to Jenny and Tyler! I encourage you all to check out their music and, if you can, see one of their shows. Their tour schedule is on their
website
.