The Coldest Girl in Coldtown by Holly Black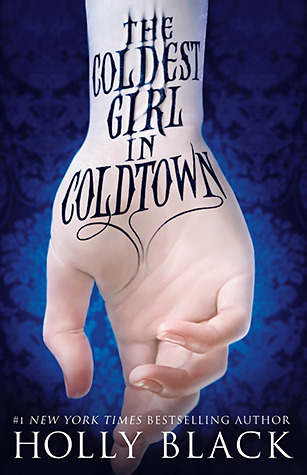 There were a lot of things about The Coldest Girl in Coldtown that I liked. There was only one thing I didn't like.
1. I liked that Vampires were both romanticized, and despicable. They were beautiful, physically, but they were ugly and awful and broken and were the worst thing to happen to the world. I liked that even though there was a love story, it wasn't a "Turn me into a vampire so I can be with you forever" story.
2. I loved the plot. It was action packed from the first chapter, easy to follow, but still complicated. The amount of twisting and changing and plotting it must have taken is astonishing, and I have become a fan of Holly Black simply because of her artistry of working this plot.
3. I absolutely loved the protagonist, Tana. She is awesome. She is brave, kick-ass, hard working, she loves passionately in her own way, she is broken and imperfect, and she makes hard choices. She's stubborn in a good way. She's wonderful. I want to be like her when I grow up.
4. I liked all the characters. They were all well developed and unique. I would have liked to get to know Pearl, her sister, a little more. I would have liked more relation between Tana and Aiden pre-vampiric adventures, but all things considered, all the other characters were still awesome.
5. The writing itself was lyric, descriptive, and engrossing. It was almost impossible to put down (I only stopped because my ipod died…)
The one thing I didn't like was the ending. It was beautiful and excellent and sweet and nerve wracking… but the very last bit, the conclusion, the "now what," was frustrating. I didn't know what was going to happen and that irritates me. (HGHLIGHT TEXT FOR SPOILERS: does she sweat out the cold, or not? does she stay human? or forever cold? does she age? so many unanswered questions.) I know the open ending lends itself to the feel of the novel. You know it ends one of two ways, and you know both options are equally possible. That keeps it in your mind. It makes you wonder. It lends itself to a sequel, if the publishers decide to pursue one. But it still annoyed me because I like to know what happens!
All that being said, It was an excellent book, and I would re-read/listen to it in a heartbeat.
*pun intended.
Genre: YA, Paranormal | ISBN: 9780316213103 | Published September 3rd 2013 by Little, Brown | Rating: 5! | Amazon | Goodreads
Tana lives in a world where walled cities called Coldtowns exist. In them, quarantined monsters and humans mingle in a decadently bloody mix of predator and prey. The only problem is, once you pass through Coldtown's gates, you can never leave.
One morning, after a perfectly ordinary party, Tana wakes up surrounded by corpses. The only other survivors of this massacre are her exasperatingly endearing ex-boyfriend, infected and on the edge, and a mysterious boy burdened with a terrible secret. Shaken and determined, Tana enters a race against the clock to save the three of them the only way she knows how: by going straight to the wicked, opulent heart of Coldtown itself.
The Coldest Girl in Coldtown is a wholly original story of rage and revenge, of guilt and horror, and of love and loathing from bestselling and acclaimed author Holly Black.