Prudence: Book 1 of The Custard Protocol by Gail Carriger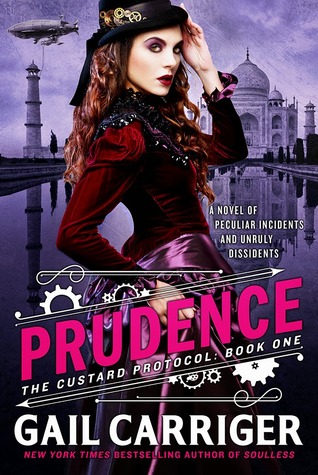 Genre: YA Supernatural
Rating: 5 Stars!
I absolutely adore Prudence, both the book and the girl. I don't have a single bad thing to say about it other than I wish I had the next book in the series right now, because I'm quite unhappy to leave her world.
Gail Carriger has a knack for making incredible characters full of life and wit and hilarity. Every story I've ever read by her has made me want to jump right into the book and live there. It doesn't even matter which character I'd be, as long as I was there. Added to that is her eloquent, witty, and distinct writing style. I wholeheartedly recommend Prudence to any fan of YA fiction, drama, romance, adventure, or supernatural adventures in an air ship.
When Prudence Alessandra Maccon Akeldama (Rue to her friends) is given an unexpected dirigible, she does what any sensible female would under similar circumstances - names it the Spotted Custard and floats to India in pursuit of the perfect cup of tea. But India has more than just tea on offer. Rue stumbles upon a plot involving local dissidents, a kidnapped brigadier's wife, and some awfully familiar Scottish werewolves. Faced with a dire crisis and an embarrassing lack of bloomers, what else is a young lady of good breeding to do but turn metanatural and find out everyone's secrets, even thousand-year-old fuzzy ones?