Career of Evil by Robert Galbraith, narrated by Robert Glenister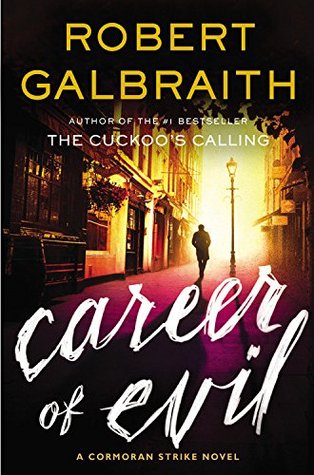 Genre: Crime Thriller, Mystery
ISBN: 9780316349932
Published: October 20th 2015 by Mulholland Books
Rating: 5
This is the third book of the Cormoran Strike series by JK Rowling, writing under the name Robert Galbraith. I jumped at the chance to review this story, as I enjoyed the other two so much. The second one left me with a slight surprise at the end, I was eager to continue the adventure. It surpassed my hopes, and I believe that so far, this is the best in the series. Galbraith seems to really be getting the hang of this crime novel thing. :-)
One of the great things I love about the series is the distinct way Galbraith slowly reveals the story, one bit at a time, one interview at a time, one little mistake the bad guy made at a time. And then Strike gets it, but you still don't, so you're sitting there like "What? What did I miss, what did he realize? what is it? WHAT IS IT!?" and it drives you crazy until Strike outlines it for you. I love that.
The relationship between Strike and Robin continues to grow, and the engagement between Robin and Matthew continues to deteriorate. More true emotions and motives are revealed, and some of Robins mysterious past is disclosed.
The audio book was narrated by Robert Glenister. He was excellent as always. He has the best voices and accents and
Just as the second novel, this one also ends in a way that demands the next book to hurry up and be published. I'm really excited about the growth of this series and I can't wait for the next one!
Content/Recommendation: Some violent gruesome details, some language. No sex. Excellent narration. Ages 18+
About the Book
When a mysterious package is delivered to Robin Ellacott, she is horrified to discover that it contains a woman's severed leg.
Her boss, private detective Cormoran Strike, is less surprised but no less alarmed. There are four people from his past who he thinks could be responsible – and Strike knows that any one of them is capable of sustained and unspeakable brutality.
With the police focusing on the one suspect Strike is increasingly sure is not the perpetrator, he and Robin take matters into their own hands, and delve into the dark and twisted worlds of the other three men. But as more horrendous acts occur, time is running out for the two of them…
Amazon | Goodreads | Author | Audible
Check out the FAQ on Galbraith's website for more! There are some great questions and answers!