The First Law series by J: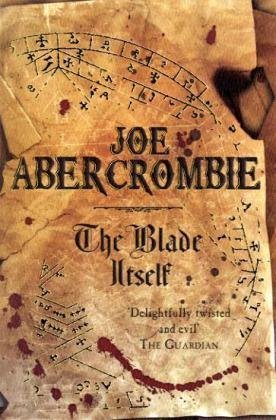 The Blade Itself, Before they are Hanged, The Last Arguement of Kings
First of all, these were some of the longest books I've listened to in a while. I've been plugging away on these suckers for over a month. some of the tracks are an hour or longer. So if you like long books, it's worth the time investment! this is a great series for a long road trip, a summer (winter) vacation, or to play in the background while you attack a major knitting project.
All three books have a part 1 and a part 2. Part 1 of the first book was spent introducing a huge variety of characters that didn't seem to have anything to do with each other; in fact they didn't even feel like they were living in the same world. I did put the story down and move away from it a few times, because there wasn't much plot or connection between them. Even though it was interesting, funny, and well written, that first part seemed very disconnected.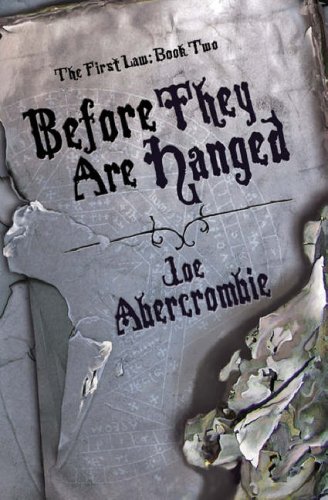 I told myself I'd listen to one more track. So I did, and that one track was the one where everything started falling together. Not only were they in the same world, they would be going on the same adventure and working together to save the world from an evil king, a crazy wizard, and magical zombies.
I love a good war story.
Each story left off with a stunning finish that begged for more. Even the last one; though it was open enough that anything could happen, you're pretty sure you know. All the loose ends are tied up: bad guys die, people get their revenge, the king gets married, the deserving are promoted, and the drunks get… less drunk than normal.
If you're into action, adventure, fantasy, or bloody thrillers, this series will keep you busy for a good long time!
Content and Recommendation: Ages 18+. Some sex (I'll tell you know it's awkward not great, even worse when you're listening to it, not reading it). Plenty of language. Lots of violence; war scenes, murder, and cutting off body parts. One of the main characters is a torturer, okay? This one isn't for the faint of heart. And don't listen to it while you're eating.
About the Books
Wizards, inquisitors, mysterious objects, bothersom politics, famous northern sword fighters, and silly self-absorbed nobles unite to save their home country in an unlikely team.
About the Author
Joe Abercrombie was educated at Lancaster Royal Grammar School and Manchester University, where he studied psychology. He moved into television production before taking up a career as a freelance film editor. During a break between jobs he began writing The Blade Itself in 2002, completing it in 2004. It was published by Gollancz in 2006 and was followed by two other books in The First Law Trilogy, Before They Are Hanged and Last Argument of Kings. He currently lives and works in London with his wife and daughter. In early 2008 Joe Abercrombie was one of the contributors to the BBC Worlds of Fantasy series, alongside other contributors such as Michael Moorcock, Terry Pratchett and China Mieville.