Fellside
by M. R. Carey
Genre: Psychological Thriller, Mystery, Crime
ISBN: 9781478940968
Pub date: May 5th 2016 by Hachette Audio (first published April 5th 2016)
Rating: 5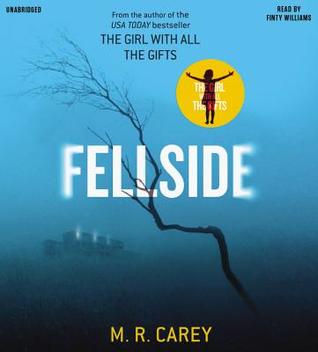 Fellside was a unique combination of psychological, thriller, supernatural, crime, and romance. When I say psychological, it was because it makes you think; thriller because I couldn't put it down, and found my heart racing; romance not in the typical sense of the term, but a deep and surprising love that brought all the characters to a new level, and puts the reader in a different frame of mind. It was the kind of book you know is completely unrealistic, but since the author believes in it, you believe in it. It begins with a mysterious tug, and right as you fall in love with the main character she starts to break your heart.
M. R. Carey doesn't write cute books, or sweet books, or books that are easy to read. They make you think and confront how you feel about certain things; but it's beautiful in it's own way.
I am totally in love with this story, this world, the concept, and the way it all comes together in the end. I definitely recommend it for ages 16+, but not as a light beach-read or hour-at-a-time read. Sit down and chew on this one, and let your mind go where it wants to.
Content/Recommendation: Ages 16+ for some violent scenes. This is a women's prison.
About Fellside
Fellside is a maximum security prison on the edge of the Yorkshire Moors. It's not the kind of place you'd want to end up. But it's where Jess Moulson could be spending the rest of her life.




It's a place where even the walls whisper.




And one voice belongs to a little boy with a message for Jess.




Will she listen?
Don't forget that Fellside is eligible for the
worldwide giveaway!